Noutati:
Streaming Answers: SurPASS™ 3
(acest continut nu este disponibil in limba selectata)
Publicat: 2015-12-16 15:00:55
We are pleased to announce the release of the new SurPASS™ 3 instrument for surface zeta potential analysis, another Anton Paar milestone in material characterization.
New features, a wider application range and simplified handling in combination with a lower price make zeta potential measurement more attractive than ever before.
Some of the most important improvements:
Compact design
Easy, intuitive, comfortable, highly automated software
Automatic determination of the isoelectric point at a single click
Measuring cells automatically detected by the software
Measurement at higher ionic strength – extends scope of applications
Higher time resolution – measuring data recorded every 140 ms
A new, proprietary method for liquid transport results in
30 % shorter measuring time
Better sensitivity for zeta potential analysis
Reduced volume of electrolyte solution
Higher applicable pressure – extends scope of applications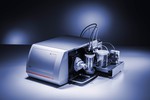 Inapoi
Noutati - Download

SurPass 3
---
Ultimele noutati
0 noutati recente.
---
0 produse noi.

Noutati top citite

Produse top vizualizate

Statistica